In the new The Network exhibition at Airborne Museum Hartenstein in Oosterbeek, we use unique sets and an abundance of audio-visual effects to show for the first time that a well-organised resistance was active around the Battle of Arnhem in 1944.
Research
During the past years, the Airborne Museum Hartenstein conducted extensive research on the resistance around the Battle of Arnhem in general and mapped out the contacts between individuals in particular. Many questions had been left unanswered. How many people were actually involved in the resistance, how were they in touch with one another and in what way did they work together? Secondary literature tends to focus on the individual perspective or the role of Allied soldiers and secret agents in the resistance. According to the literature, the resistance did not have a significant impact. Research by the Airborne Museum now shows that seemingly individual actions concealed a well-organised network. This network is made visible for the first time in the new exhibition.
As if you are there yourself
In early 2017, the museum asked MCW / creative agency and Kloosterboer Decor to design the exhibition. Kloosterboer Decor assumed responsibility for the spatial design and MCW worked out and illustrated all of the storylines in close cooperation with the museum.
In the The Network exhibition, you experience three resistance stories as if you are there yourself. The stories about the Algemene Kunstzijde Unie (AKU) synthetic fibre concern, Operation Pegasus and the consequences for members of the resistance after liberation are presented using unique, three-dimensional sets and an abundance of audio-visual effects. You find out who these people were, how they knew one another and the ways in which they put their lives on the line. The resistance efforts resulted in a trail of various actions, from appropriating food for people in hiding to sabotaging railway connections and evacuating the remaining airborne landing troops after the Battle of Arnhem.

All of the stories are introduced and narrated by two young, fictitious researchers. They take the visitor along on their search and show at the end of the exhibition that a well-organised network was indeed active.

The Network runs until 1 March 2019 at the Airborne Museum.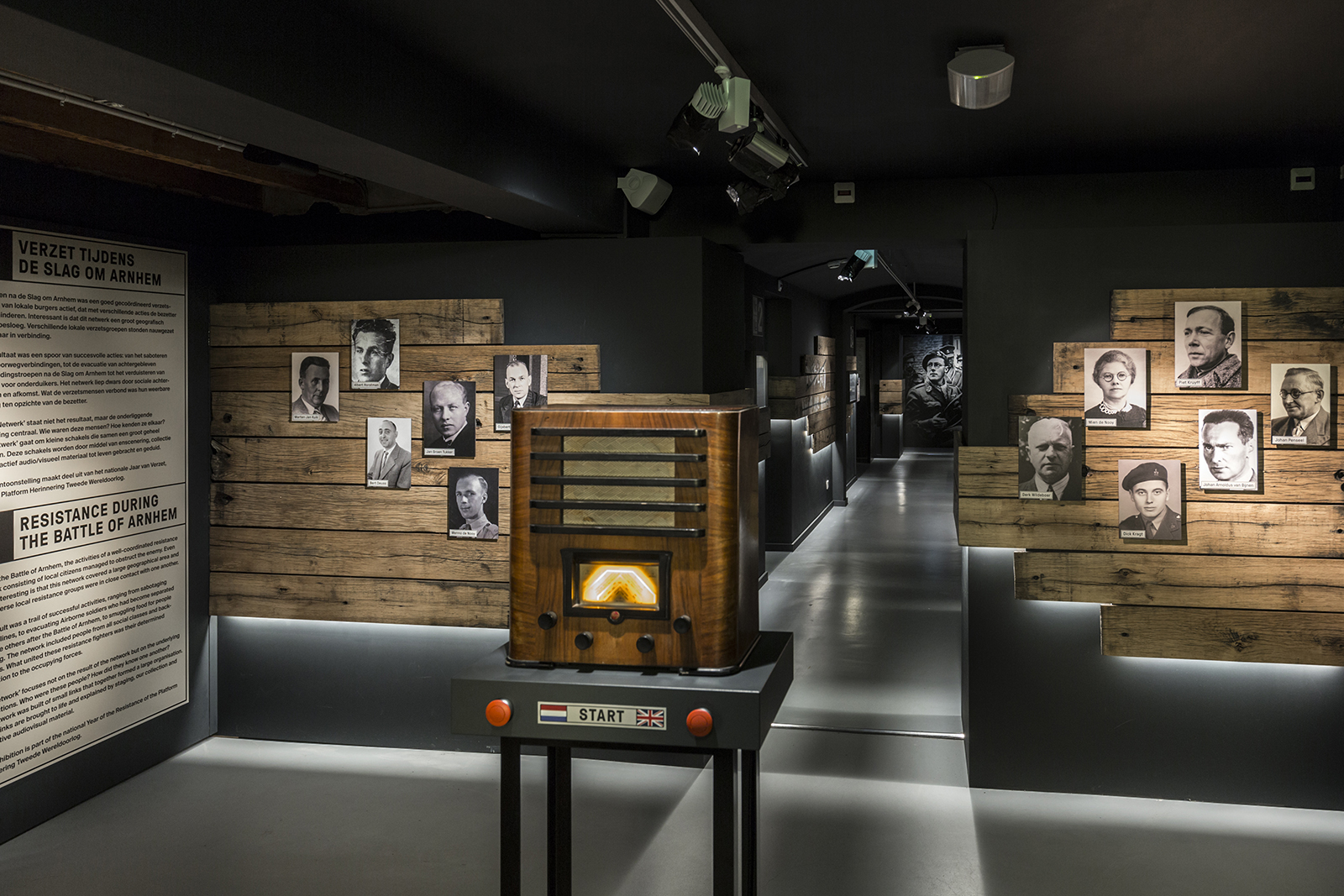 Client: Airborne Museum Hartenstein
Realisation: Kloosterboer Decor & MCW / creative agency
Concept & Spatial Design: Jaap Verburg & Kay Kloosterboer
Films & Sound Design: MCW / creative agency
Scenario & Direction: MCW / creative agency & Janwillem de Kok
Graphic Design & Image Editing: Studio Berry Slok
Light Design: Boudewijn Smit
Photography: Sarah-Dona