BAM wanted to make sure that they stood out at the recent InfraTech 2017 at Ahoy Rotterdam. And they succeeded! With a spectacular holographic projection on its stand, never previously seen in this form, BAM was one of the most talked-about exhibitors at the fair.
BAM gave us a clear remit. In the words of Marinus Schimmel, director of BAM Infra Nederland: ´We want to lead the way in the digitisation of the construction process. Our process management is greatly improving through the use of three- and four-dimensional techniques. This development benefits both us and the client. Our stand demonstrates in multiple ways that our company has fully embraced 3D digital technology. We would like to invite everyone to visit our stand for an experience which is as unforgettable as it is inspirational.´

MCW came up with the concept 'Verbazen, Verbinden en Verdiepen´ (Surprise, Connect and Deepen) and was responsible for the holographic projection as well as all the interactive productions. In effect, we handled the multimedia side of the futuristic stand designed by Maqutos.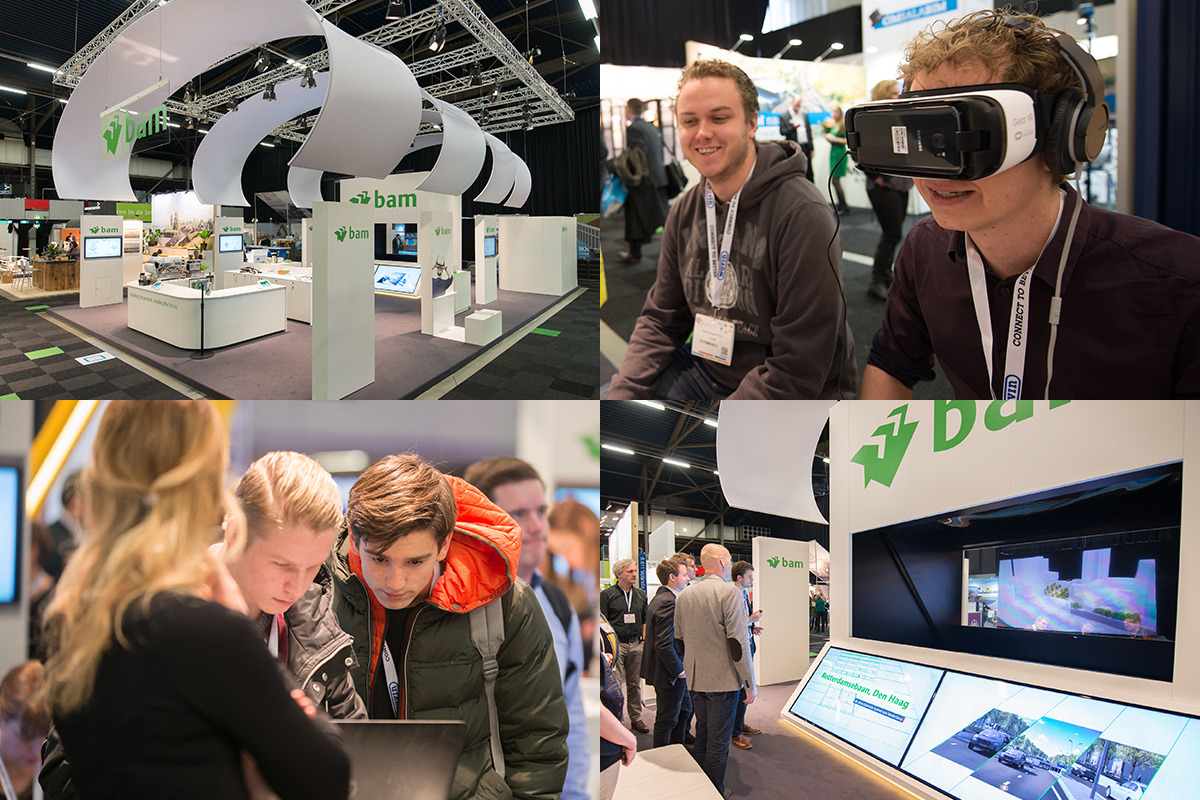 Photo: Remco Gerritse

Hologram
We astonished visitors by installing a huge holographic projection (a first in this form) at the rear of the stand. This projection made several of BAM's prestigious and innovative projects – e.g. the IJmuiden sea lock, Rotterdamsebaan road project (The Hague) and the submersible foundations for offshore wind turbines (Blyth) – appear to float in the air. According to people in the know, this 'floating' hologram (around 3 x 2 metres) was a world first!

Beneath the hologram, there was an oblong multimedia production which displayed BAM's most innovative projects. The production was shown on two large 75-inch screens which played animations synchronously.
360 graden Virtual Reality experience
We then connected visitors with BAM's innovative values by means of an unusual 360° virtual reality, implemented using Gear VR glasses. This technique transported viewers straight into BAM's world, offering them 360° views during a virtual flight based on animation and drone footage. The music for this production was also composed specially by MCW.
Deeping stations
Finally, visitors could deepen their knowledge of BAM's specialist and innovative projects or gain information about potential careers at BAM. In order to achieve this goal, MCW created six interactive touchscreens which displayed many different photos and videos in an intuitive way.
Vlog 10: Compilation vlogs InfraTech 2017 from Koninklijke BAM Groep nv on Vimeo.