Have you always wanted to visit a dam or a protected nature reserve from your comfortable chair? Now you can with the virtual reality films that we and Tappan produced for Rijkswaterstaat (the Dutch Department of Public Works and Water Management). These VR films take you to two unique locations in the Netherlands where no one is normally allowed to go.
Nesting with the birds
We take a boat ride with the nature warden in the IJsselmeer area and get a peak at park De Kreupel. This protected area in the IJsselmeer with lots of little islands is a real birds' paradise. With the virtual reality headset, you're right there nesting with the birds.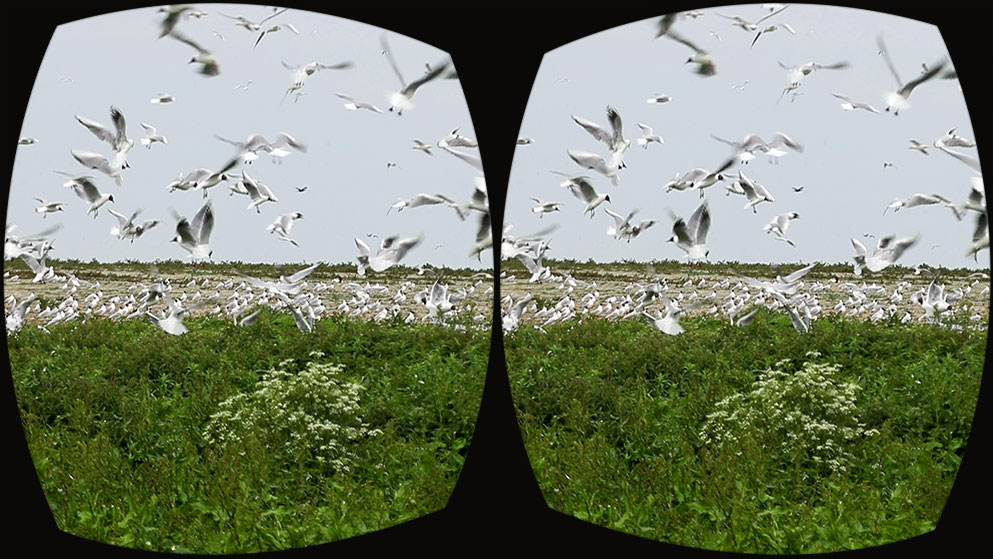 The second film takes us on a virtual tour of the dam projects at Driel, Amerongen and Hagestein. These striking and impressive structures ensure that there is enough freshwater in the river basin as well as safe, smooth shipping traffic on the rivers IJssel, Lower Rhine and Lek.
Three perspectives on one story
Today's smartphones make virtual reality accessible to everyone, whether it is for relaxation, communication or educational instruction. When you walk through a virtual reality film and look at the world through someone else's eyes, the possibilities are endless.
That aspect was the starting point as well in developing this concept. Every film appears as though we look through the eyes of three main characters and hear their thoughts. Not only do we want you to look around, we also want to tell you a story and let you experience something unusual from the perspective of one in three main characters. The special 360-degree perspectives continually unfold with interesting picture-in-picture images which support the protagonist's story. This way, you literally take a look through the nature warden's binoculars, for example.
A special production
The final result is not the only remarkable thing: the production of these films was in itself an unusual experience for the MCW crew. Our various 360° cameras and drones accompanied us on our search for beautiful and unique spots during endless days of shooting. We rode along with a wind surfer, stood among hundreds of birds at park De Kreupel in the IJsselmeer and had doors opened for us that remain closed to others. In every situation, a different approach was needed with special equipment. In comparison with traditional filming, it was especially the telling of the story that meant finding a creative approach.
Online or with VR headset
The VR films of Rijkswaterstaat are made in 360 degrees, take about four minutes of playing time and give you a good idea of what Rijkswaterstaat does. These films can be used in a variety of ways. Special video files were supplied for online use on Facebook, Vimeo and YouTube. Moreover, we also produced VR apps in-house so the films can be watched using a VR headset. We had people at events standing in line and the responses were enthusiastic.
This unusual end result allows visual experience to contribute in a positive way to communications by Rijkswaterstaat. Although the best way to view the films is with the VR headset, you can also watch them on your desktop, tablet or mobile phone.
Download apps for IOS
Download apps for Android