Upon commission by Holmatro, MCW designed and created the Rescue Techniques Handbook. The handbook provides an accessible and interactive explanation of the tools, techniques, safety issues and procedures involved in rescuing people from a variety of situations.
---
MCW also developed a real-time Rescue Game for Holmatro that enabled people to interactively experience a rescue operation for themselves.
Background
---
A driver loses control of his vehicle. In a panic, he brakes with all of his might, but it's too late: the entire bonnet of the car wraps itself around a tree with an ear-shattering bang. An ambulance and fire engine are quickly on scene. The driver is trapped. The only way to free him is with hydraulic cutters. Who makes this equipment? Why, Holmatro of course!
Holmatro's hydraulic tools and systems are used throughout the world for rescue operations, industrial applications and special tactics. Naturally, this makes reliability a crucially important factor.
The assignment
---
As market leader, Holmatro ensures that rescue workers are optimally able to do their job using the best equipment available. Demonstrate this fact by means of a comprehensive handbook for rescue workers and an impactful interactive tool.
Our approach
---
MCW designed and produced the entire Rescue Techniques Handbook in-house. The book was written for rescue workers of all experience levels, and is a source of information that serves as a solid basis for training and further development. We also set about conceptualising and realising a unique game focusing on rescue operations and Holmatro tools.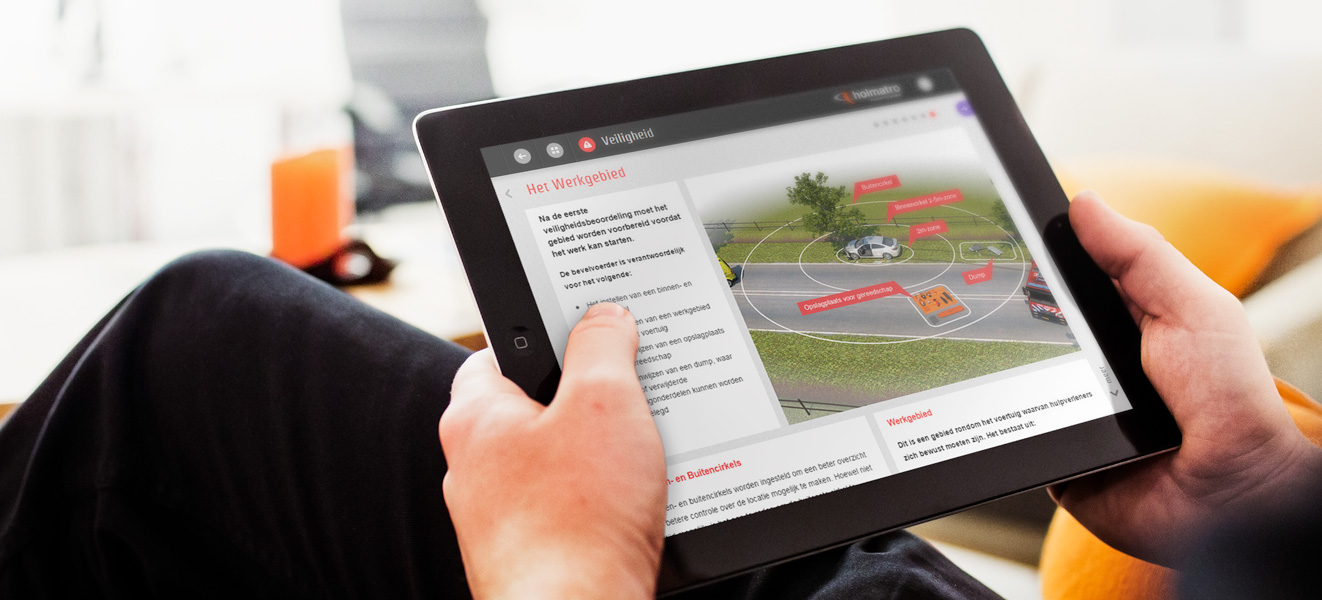 The results
---
The Rescue Techniques Handbook covers aspects such as: Safety, The Vehicle, Tools and Equipment, the Team Approach for Traffic Accidents, and At the Scene of an Accident. All of the rescue techniques in the books were illustrated with photos and feature QR codes linked to YouTube videos. These videos show how the technique in question should be properly conducted.
Interactive tablet version
Originally delivered in English, the hardcopy version of the handbook is now available from the Holmatro website in 12 languages (including Chinese, French and Russian). We also developed an interactive tablet version of the handbook for both iPad and Android.
Rescue Game
In order to demonstrate the rescue techniques in an original and interactive manner, MCW also developed a real-time Rescue Game for Holmatro. This game is based on the 'Team Approach', a method used by many rescue workers worldwide in order to free victims from car crashes. Players of the game complete realistic training scenarios, in which they must carry out all of the steps necessary for a properly coordinated operation.
The Holmatro Rescue Game is free and available for iPad 2 or later, Microsoft Windows and Mac OSX.